Quality of Life.
The Poster: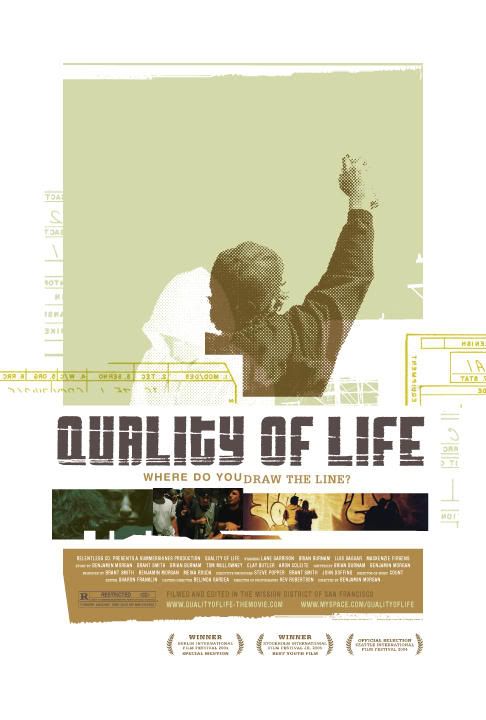 The Trailer:
The Synopsis:
Meet Michael "Heir" Rosario and Curtis "Vain" Smith, the most prolific and talented graffiti writers from the Mission District in San Francisco. At age ten, in a desperate search for fame and identity, the young friends began writing their names on surrounding urban landscapes. More than a decade later, the duo have evolved into a brilliant team of street artists. The two have covertly decorated the canvases of concrete and steel throughout the Bay Area. However, when Heir and Vain are arrested for painting, their secret identities are revealed and creative outlets are abruptly severed.
Faced with restitution and the prospect of serving hard time, Heir and Vain struggle to maintain their creative passion. The paths they choose threaten to unravel their lifelong friendship and, ultimately, their lives.
The U.S. Screening/Premiere Dates:
SAN FRANCISCO, CA:
March, 3 2006 - 7:00P
Red Vic Movie House
1727 Haight Street
San Francisco , CA 94117
"Come see Quality of Life on the legendary comfy couches of the Red Vic, as we kick off our national tour right in our hometown. Three nights only: March 3, 4 and 5!"
IRVINE, CA:
March, 10 2006 - 7:00P
Edwards University Town Center 6
4245 Campus Drive
Irvine , CA 92612
"Our southern california premiere!"
NEW YORK, NY:
April, 6 2006 - 9:00P
Pioneer Theater
155 East 3rd Street (between Avenues A and B)
New York City , NY 10009
"One week only! This is it. It's our East Coast premiere in the Mecca of graffiti: NYC. Seats are EXTREMELY limited, so be sure to buy advance tickets now. We expect many (if not all) screenings to sell out: BUY TIX NOW."
For More Information:
http://www.qualityoflife-themovie.com
http://www.myspace.com/qualityoflife