Canadians have good ideas. Beautiful City Billboard Fee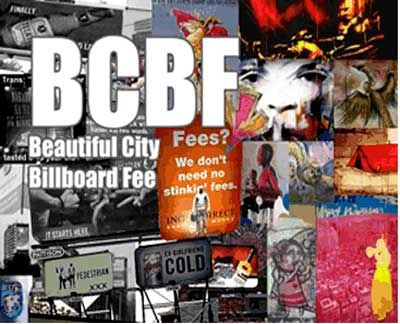 [Taken from Woostercollective.com]
Them.ca
has launched a new project called "The Beautiful City Billboard Fee" (BCBF) in which billboard companies pay an annual fee with proceeds going to support public art. Sort of balancing out the scales a bit.
According to a Pollara public opinion poll, a majority of Canadians support the institution of a fee on billboard advertising that would be redirected into public art. A total of 2006 Canadian adults participated in the survey, 66% of which supported the fee and 11% were opposed. (±2.2%, 19/20) This result was closely mirrored in Toronto, with 66% of participants supporting the proposal and only 15% opposed (±8.3%, 19/20).
The primary objectives of the BCBF are: 1) beautification of the city; 2) creation of employment for artists and 3) diversifying access to visual communication in public spaces to reflect the creativity and multiplicity that exists in Canada's urban centres.
Them.ca proposes a charge of $6.00 per sq. foot of billboard space per year. Those funds will then be redirected towards public art. Thus, five 15'x25' billboards could subsidize one small art piece for the cost of $10 000.00 (allowing $1250.00 for administrative and maintenance expenses incurred by city and granting bodies).
On a larger scale, the estimated 5000 billboards in Toronto could generate six million dollars for public art per year.
Jim Garrard, a previous Executive Director of the Toronto Arts Council said - "…To me there's room for advertising in the world in moderation and in balance with other kinds of messages. We don't have that. Our 'pure' artists are certainly at a disadvantage when it comes to resources. A reasonable balance between conflicting agendas is what we always hope for. Seeing more of the best work of our best artists in public places would contribute to that. That would also make this city and the world better places to live in,""
For more information including: quotes, sources, FAQ, a copy of the full proposal, resources, images and the findings from poll, fo to -
http://bcbf.them.ca/