ATTN Bodyboarders: HUMAN hosts the 9th annual Shark Island Challenge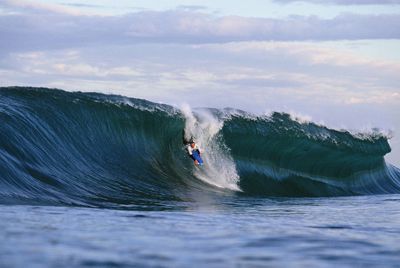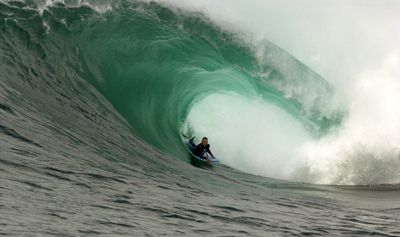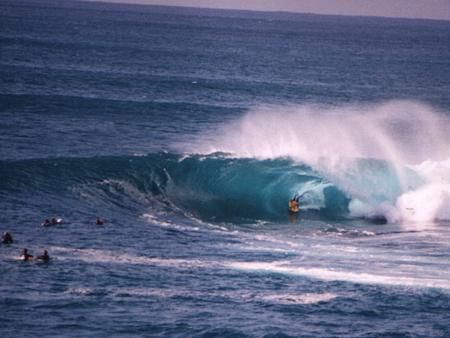 Cronulla is a suburb of Sydney, Australia. Shark Island is one of the gnarliest waves that I've seen in person. The waiting period for the contest has just begun. So, as soon as some swell comes into the window, it's on.
"THIS YEARS HUMAN CRONULLA SHARK ISLAND CHALLENGE WILL HAVE A 26 DAY WAITING PERIOD FROM THE 6th OF JULY TO THE 31st OF JULY. THE WAITING PERIOD IS NEEDED FOR THE PERFECT WAVE DIRECTION, PERFECT WIND DIRECTION, THE RIGHT TIDE HEIGHT AND THE RIGHT WAVE HEIGHT OF A MINIMUM OF 4-6 FEET OR BIGGER."
"Big dollars for the worlds most prestigious event. The Human Cronulla Shark Island Challenge 2005 is ready to break records, set new standards. The event is about having the best riders competing at one of the worlds most challenging waves, a reef break that no human can predict, a monster that will take you alive if given half a chance.
The shallow reef ledge that accommodates this mutant wave is situated 50-100 metres from the residential shoreline of Cronulla Point and finds itself on the receiving end of consistent, powerful and unforgiving South Pacific swells, generated from the roaring low pressure systems that make there way across into the Tasman Sea. With the right conditions Shark Island produces unbelievable tube rides and spectacular waves up to 2-4 meters (6-10 feet). Without the total concentration and commitment needed to survive such a dreaded wave, the spectators that line the Esplanade during the contest days will witness these professional athletes shedding skin and pride on the barnacle infested reef. "
http://www.cronullasharkislandchallenge.com/
http://www.ibatour.com/pages/?pageID=1453